Artist: American Zen
Author: The Hippy Coyote
Project Format: 320kb mp3 music album with bonus items = 118mb
Download Price: $9.99 album, 0.99 song
Record Producer: Richard Del Connor
Record Label: Shaolin Records
Release Date: 7/4/2014
SFR1401
Truck Load of Zen
Recorded in Coyote's truck while travelling and working as a stagehand for concerts.
11 rock songs tell the story of Coyote's "nomadic" journey since Christmas 2011 when he left his kids to start a Shaolin Kung Fu school in Las Vegas.

End Of The Line follows the 2012 release of Coyote Radio Tujunga by THC The Hippy Coyote and the last released album by American Zen, LEVEL 4 = Kung Fu Cowboy PART 1; King Solomon's Temple in 2010. Both of these previous albums, also written by Coyote, are based upon the life events of T.H.Coyote, known mostly as "Kung Fu Cowboy," since 2012. End Of The Line is a musical autobiography of Coyote since he became "nomadic" in 2011.

Starting with the song, "Use Me," Coyote tells how he became homeless and stranded in Las Vegas. The next song, "High School Reunion," was written as Coyote reentered the town of his birth for his 40-Year High School Reunion.
Coyote continues to perform all the instruments under the pseudonyms of his music alter-egoes; Steve Hixon on drums, Tom Calder on bass, and Rory G on electric and slide guitar.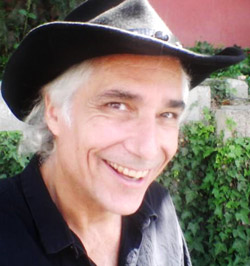 The songs were written inside his truck, and in February and March of 2014 Coyote recorded all 11 songs in his truck. The drums had to be recorded in his daughter's living room while his truck was getting a new head gasket. The final guitar track (of Rory G) playing through his vintage 1978 Marshall amp was recorded with the flutes in an empty apartment in Van Nuys where Coyote could turn his amp up to "11." The bass, vocals and rhythm guitar tracks were recorded in Coyote's Toyota Tacoma using his sleeping bag for insulation...
Coyote originally intended this to be a solo record of his recent solo performances on electric guitar and flute. "It just made sense to keep going," explains Coyote. "Opportunities just kept opening up and one of my Kung Fu students bought me the Zoom 4-track recorder for Christmas. The album just kept growing--with a life of its own."

End Of The Line is the 5th album release of American Zen. WIth the return to 4-track recording, this album has a similar rock honesty as the LEVEL 1 = Peace of Mind debut album by American Zen.
"This album represents my final departure from folk rock," says Coyote. "Since 1994 I've been striving to revitalize or bring back folk rock music. It didn't work. As you can see the world has chosen bombs, bullets, rap cussing and digital music from kids who can't play a single instrument. Folk rock is dead, and I couldn't resurrect it."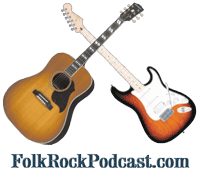 Coyote was the host DJ of the Folk Rock Podcast of Shaolin Records for several years. "I'm a rocker now," states our hippie dog. "I will never play an acoustic guitar again."
That's okay. Coyote shreds on guitar. End Of The Line will be the album used by future generations of guitar players to learn their rock riffs and form their own 4-piece rock bands all over the world.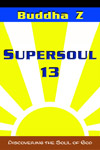 End Of The Line album, released June 2014, will also be promoted and marketed as Coyote releases and promotes several other projects. Supersoul 13 is the spiritual journal written by Coyote in 2013 while completeing the End of the Line album. This book provides details of the album being written, and any fan of the album will want this book. Supersoul 13 is being released exclusively through amazon.com.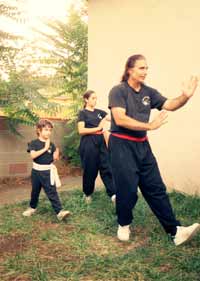 Coyote is a Tai Chi and Shaolin Kung Fu master teaching under the name, Buddha Zhen or Buddha Z . As founder of several Kung Fu schools, including the Tai Chi Youth nonprofit education organization, Coyote has become famous as the "Kung Fu Cowboy." Already featured in Kung Fu Masters Magazine, Coyote will star in the movie written about him, Kung Fu Cowboy Rock & Roll Movie 1 , currently in production as this album is released.
The song, "Kung Fu Cowboy 2," was written with phrases and lyrics that only a Kung Fu practitioner would know: "Rooted to the Earth in a horse stance," "Don't fight--we play around," "Trees are my punching bags," and "Qigong and a bong--for energy!" portraying the modern Kung Fu hero as a person who enjoys life as much as possible--in a healthy way.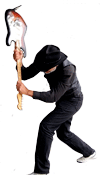 Since 2012 Coyote has been stung by a scorpion in the neck, released 19 books in Kindle format, written and recorded the End of the Line album, written and published Supersoul 13 book, written the screenplay for Kung Fu Cowboy Rock & Roll Movie,1, and worked as a stageheand while teaching Tai Chi and Shaolin Kung Fu private lessons. Coyote has released more products while traveling in his truck for the past 3 years than Coyote has released in the previous 30 years.
Bonus items included in purchase ONLY from Shaolin Records:

FREE BOOKS:
Supersoul 13
4 Decades of Love

FREE SONGS:
"Peace Of Mind #2"
"Christ Killer"
"I Want You To Love Me"
"Kill The Spider"

Buy
End of the Line album
now
(with bonus items)
directly from Shaolin Records
118MB

($23 value)

Download now for
$9.99

Reviews and Comments about American Zen:

"Loved your website. Did you really get stung in the neck by a scorpion?"

"Something real and something good."

"Hihgly spiritual."

"You're a really good guitar player. I mean it. You're really good. You really talk through the instrument."

"Coyote has his own unique voice."

"American Zen is part of the uiverse in a positve way. They're singing something good to the world."

"It makes you think. It's the truth."

"American Zen is expressing what is real."

"Coyote doesn't settle for less than greatness. That essence of something great."