Artist: American Zen
Author: The Hippy Coyote
Project Format: mp3 song downloads individually, or as album
Price: $8.88 album, 0.88 song
Record Producer: Richard Connor
Record Label: Shaolin Records
Release Date: 2/4/2007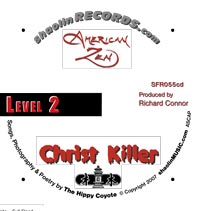 Continuing his Buddhist journey in the midst of the Mormon empire of Salt Lake City, Utah, our California hippie tells stories of polygamy, rape, incest, and intolerance.
Now known as, THE HIPPY COYOTE, the "best flute player in the world," club owners and local businesses are pressured into boycotting him and discontinuing his teaching contracts. The newspapers and magazines receive letters 'advising' them not to print any of the poetry and short stories of our hippie hero.
With a face like Richard Gere, a pony tail, and his flute, Coyote survives knives in his door, missionaries trying to chase him out of town, and gang members with guns trying to take over his apartment's laundry room.
Psychedelic Folk Rock from America's FIRST BUDDHIST ROCK BAND, on a Buddhism journey to nirvana, with its' roots in the muddy stench of the Great Salt Lake. Somehow, this album is less aggressive than the first album, LEVEL 1 = PEACE OF MIND. Coyote's views of Mormon life and the Church of Jesus Christ of Latter Day Saints is more like a musical version of National Geographic.
Take a look behind the curtains of the largest and wealthiest corporation in the world, the Mormon Church.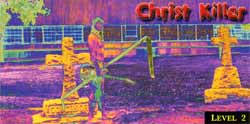 Download the entire album for $8.88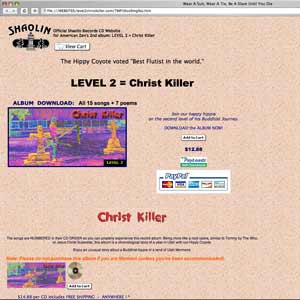 Or order song by song at
LEVEL 2 christKILLER
website