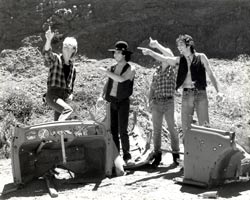 Artist: The Rich (pre-American Zen)
Author: Richard Del Connor (pre-The Hippy Coyote)
Project Format: live rock band / power pop trio...
Price: from free keg parties is San Diego to Los Angeles concerts
Publisher-Editor: Richard Del Connor
Book Publisher: Shaolin Communications
Release Date: ??
In 1974, Richard Del Connor was performing as a blues-rock guitarist in San Diego. When he became recording engineer, he developed talents on other instruments to record his song demos and be hired as a session player for radio commercials, publisher demos, mariachi records, country and folk music albums being recorded at Bonita Studios where he worked.
His own bands were originally billed as "LOTUS," but were changed to "THE RICH," as a brand of their quality and because the band featured the music of Rich, Richard Del Connor, also known as, "Dickie Dare."
The rock operas, UNDERGROUND, IN VIOLENCE, and THE PAUPER, were billed as, THE RICH.
Coyote's first album, TEMPTATION, released 1984 by Shaolin Records, lists the artist on the cover as, "RICHARD O'CONNOR," but on the back cover lists the band as, "THE RICH."
As many of these studio recordings from 1975 to 1986 are transferred from their analog tape masters to digital, we will offer them here. One of the LIVE SHOW cassette recordings is used on the beginning of the song, "In Line," on the American Zen album, LEVEL 3 = I WANT YOU TO LOVE ME.
Shaolin Records SONG DOWLOADS 88¢ each.
many songs coming soon to here...
Shaolin Records ALBUM DOWLOAD $6.66 each.

Samples

Album Title

Song Recording Quality

6.66 each

The Rich LIVE at MUSIC MACHINE
1984




(low quality cassette recordings plus high quality recordings)

Samples

Song Title

Song Recording Quality

.88 each

"Don't Look Back"

(low quality cassette recording)

"Go Blame It On Somebody Else"

(low quality cassette recording)

"I Can't Take No More"

(low quality cassette recording)

"Leaves To The Wind"

(low quality cassette recording)

"My Child"

(low quality cassette recording)

"Oboy"

(low quality cassette recording)

"Out Of My Mind"

(low quality cassette recording)

"Sometimes"

(low quality cassette recording)

"We're Not Working Out"

(low quality cassette recording)

bonus: "My Child"


(EP version)

(professional quality cassette recording)

bonus: "Out Of My Mind"


(soundtrack version)

(professional quality recording)

bonus: "We're Not Working Out"


(EP version)

(professional quality recording)

bonus: "We're Not Working Out"


(rehearsal recording)

(low quality cassette recording)