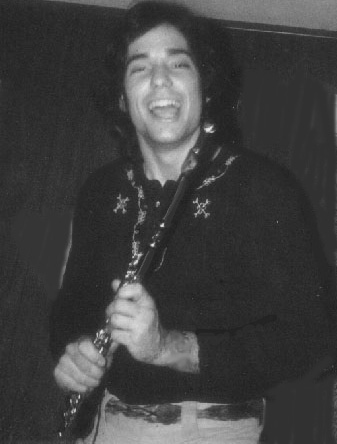 Artist: The Rich (pre-American Zen)
Author: Richard Del Connor (pre-The Hippy Coyote)
Project Format: live stage rock opera
Price: (free at many keg parties in San Diego)
Publisher-Editor: Richard Del Connor
Book Publisher: Shaolin Communications
Release Date: 1977
This is when Coyote was inspired to play flute.
Waking up from a dream that seemed to be a past life, Coyote, then known as Richard Del Connor or "Dickie Dare," wrote the short story, that became the rock opera, THE PAUPER.
Coyote envisioned himself as a wandering minstrel from Ireland, in England, over 400 years ago, playing a small Spanish guitar.
Accidentally sucked into a witch's sacrifice, he is transported into another world that he takes advantage of...and pays the ultimate price.
The flute that Coyote purchased in 1976 to perform this rock opera, is the same flute he plays and records with today in 2010.
The entire rock opera was not recorded, but a dozen of the songs were recorded in 16-track studios in 1976-1978.
Shaolin Records SONG DOWLOADS 88¢ each.

Samples

Song Title

Song Recording Quality

0.88 each

"The Pauper"

(High quality studio recording dubbed from cassette)

"Together and Free"

(High quality studio recording dubbed from cassette)

"Without You Day By Day"

(High quality studio recording dubbed from cassette)

>>> Temporary Special Offer <<<
"The Pauper" (128kb)
FREE SONG