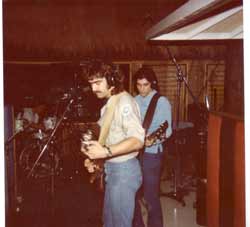 Artist: The Rich (pre-American Zen)
Author: Richard Del Connor (pre-Coyote)
Project Format: 2" 24-track tape recorder
Price: $4.44 for 6 songs
Record Producer: Richard Del Connor
Record Label: Shaolin Records
Music Publisher: Shaolin Music
Release Date: Unreleased ONLY available at shaolinRECORDS.com
SFR006dm04
THE RICH in 1979:
Scott Kohler
- drums
Richard Del Connor
- lead vocals, 1957 Rickenbacker 4000 bass with flatwounds through Plush Amp
Dann Link
- electric guitar, backing vocals
4 songs recorded by THE RICH in 1979 at the legendary Village Recorder studios in West L.A.
Fleetwood Mac and Frank Zappa were recording there at the same time. Stevie Nicks popped in when she heard about the nasty songs by Richard Connor. "Show Girls" was her favorite.
VILLAGE RECORDER 4 - Song Session of 1979:
Backseat Love
Trust Me
Older Women
Show Girls
All four songs for
$4.44
PLUS
includes LIVE version of "Billy Boy" recorded 1980 with Richard Augustine on drums.