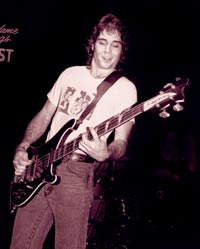 Artist: The Rich "Coyote Graveyard"
Author: Richard Del Connor / The Coyote
Project Format: Cassette recorder at base of Coyote's microphone stand.
Price: 88 cents per 320kb mp3 song download
Record Producer: Richard Del Connor
Record Label: Shaolin Records
Release Date: 2012
SFR009dm03
THE RICH 1989-91
The Coyote: Lead Vocals, Guitar, Songs
Dann Link: Bass, backing vocals
Marshall Woodson: drums
Recorded live at Madame Wong's West in Santa Monica, California. Billed as COYOTE GRAVEYARD, they played many songs from the Coyote In A Graveyard rock opera and some currently written songs.
Michelle McCarty is in the audience during all these 1989 and 1990 shows. That's her loud whistle also.
"Oh Michelle" was written while having sex. Perhaps Coyote's nastiest song? This was written before they'd decided to start their family and have a child, on purpose.
Shaolin Records SONG DOWLOADS 88¢ each.

Samples

Song Title
Song Recording Quality

0.88 each

"Oh Michelle" 1990

(low quality cassette recording)