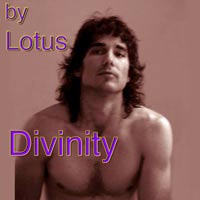 Artist: Lotus (pre-The Rich and American Zen)
Author: Richard Del Connor (pre-The Hippy Coyote)
Project Format: Tascam 1/2" 4-track tape recorder
Recording Location: Bonita Studios, Bonita, California
Price: 88 cents per song/version: "Wishwood Bridge"
Product Formats: 320kb mp3 download (PayPal/PayLoadz)
Music Publisher: Shaolin Music
Record Company: Shaolin Records
Release Dates: Recorded 1974, Released 2012
SFR029dm01
LOTUS:

Richard Connor: electric guitar, vocal

Richard Augustine: drums

Gus Beadouin: bass
In 1974, Richard Del Connor was performing as a blues-rock guitarist in San Diego. When he became recording engineer, he developed talents on other instruments to record his song demos and be hired as a session player for radio commercials, publisher demos, mariachi records, country and folk music albums being recorded at Bonita Studios where he worked.
This sexy song, "Divinity," was enhanced by the consumption of Southern Comfort whiskey. Coyote's tenor voice got lower from the alcohol and more abrasive by the removal of mucus, creating an older voice after a few takes of a song. This was the only time Coyote drank liquor back in those days.
When Coyote turned 21, he was the staff recording engineer/record producer of Bonita Studios. One of the clients and his wife took him out for drinks. After only three drinks he was bombed and had to spend the night with them...
Shaolin Records SONG DOWLOADS 88¢ each.

Samples

Song Title

Song Recording Quality

0.88 each

"Divinity" 1974

(professional quality studio recording
dubbed from old cassette)
320kb mp3