Artist:
Buddha Zhen

Author: Zhen, Shen-Lang, Spirit Wolf of Truth (Richard Del Connor)
Project Format:

pdf BOOK download


Price:

$18.88


Movie Director-Record Producer: Richard Del Connor
Movie Production Company: Shaolin Pictures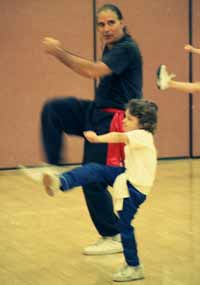 Record Label: Shaolin Records

Publisher-Editor: Richard Del Connor
Book Publisher: Shaolin Communications
Release Date:
First Edition: 1993
This is the book to transform your life from being whoever and whatever you are into a Kung Fu HERO. A Kung Fu Master is a protector of his family, and community. Shaolin Chi Mantis is a school for creating Kung Fu heroes in the ancient traditions of the original ZEN BUDDHIST WARRIORS of the Shaolin Temple. Our curriculums are a proven method of combining Zen Buddhism, Shaolin Kung Fu, and Tai Chi to create SPIRITUAL WARRIORS.
Shaolin Kung Fu Beginner - Warrior Athlete was written by the founder of Shaolin Chi Mantis, Zhen Shen-Lang "Spirit Wolf of Truth." Buddha Zhen is also the founder of Tai Chi Youth nonprofit organization, and Buddha Kung Fu (schools for making Buddhas). As a Shifu (Kung Fu Master) since 1984, Buddha Zhen has taught thousands of students of all ages including several blind students.
Download the entire book for $18.88