Artist: Buddha Zhen
Talent: Buddha Zhen, Tom Calder, The Hippy Coyote
Author: Zhen Shen-Lang, Spirit Wolf of Truth
Project Format: ALBUM download
Price: $8.88
Record Label: Shaolin Records
Record Producer: Richard Del Connor
Mixing: Richard Del Connor
Mastering: Richard Del Connor
Release Date: 4/8/2009
Distributors: Shaolin Communications, see links below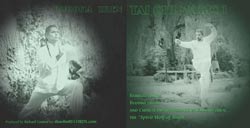 TAI CHI MAGIC 1 is a unique blend of Chinese traditional instruments and American folk rock.
Buddha Zhen's Kung Fu drumming and Tai Chi pipas will inspire, motivate, and relax you. From the meditative solo flute of "Boundless Space," to the Mongolian horseman song, "Road To The Mountaintop," this is an album of enlightenment.
Download the entire album for $8.88
Song Samples: (click song title)