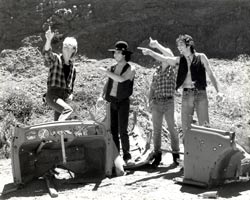 Artist: The Rich (pre-American Zen)
Author: Richard Del Connor (pre-The Hippy Coyote)
Project Format: live rock band / power pop trio...
Price: from free keg parties is San Diego to Los Angeles concerts
Publisher-Editor: Richard Del Connor
Book Publisher: Shaolin Communications
Release Date: ??
SFR009dm00b
Coyote Graveyard = The Rich = 1989 to 1991
Coyote Graveyard (1989-91 version of THE RICH)
The Coyote: Fender strat and vocals
Dann Link: bass
Marshall Woodson: drums
Includes:
It's Your Shadow
My Child
Oh Michelle
Pieces of the Sky
Artist: The Rich and "Coyote Graveyard"
Author: Richard Del Connor, "Richard O'Connor"
Project Format: live rock band and Solo Coyote
Price: $4.44 (zip download of 6 songs)
Format: 320kb mp3 (highest quality)
Book Publisher: Shaolin Communications
Release Date: 2012 (recorded in 1989-90)
The Rich LIVE at Madame Wongs 1989
features The Coyote (now known as The Hippy Coyote)
Dann Link returned to the band for this period on bass.
Marshall Woodson beat some great skins.
Billed as, "Coyote Graveyard," they performed a mixture of songs from the rock opera, Coyote In A Graveyard, and songs from Coyote's earlier and most recent years.
Shaolin Records SONG DOWLOADS 88¢ each.
Shaolin Records ALBUM DOWLOAD $4.44 each.

Samples

Album Title

Song Recording Quality

4.44 per ALBUM

The Rich
LIVE at MADAME WONGS
1989




(low quality cassette recording)

Samples

Song Title

Song Recording Quality

.88 each

"It's Your Shadow"

(low quality cassette recording)

"My Child"

(low quality cassette recording)

"Oh Michelle"

(low quality cassette recording)

"Pieces of the Sky"

(low quality cassette recording)

bonus: "It's Your Shadow"
(soundtrack single 1989)

(low quality cassette recording)

bonus: "My Child"
(EP single 1984)

(low quality cassette recording)