Artist: American Zen
Author: The Hippy Coyote
Project Format: mp3 song download
Download Price: 0.88 song
Record Producer: Richard Del Connor
Record Label: Shaolin Records
Release Date: 5/5/2011
A song of love and tenderness, inspired by his toddler daughter.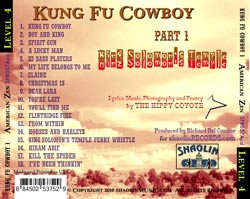 Coyote performed all the instruments. He made a goal of no percussion in this song. Not even tambourines.
The vocal is the original vocal, recorded on cassette, in 1992 when Coyote's life was centered around the happiness of his daughter. Coyote rediscovered the meaning of Christmas as he learned to create Christmas for his kids.
The wah-wah guitars were recorded in the Montrose recording studio of Shaolin Records.