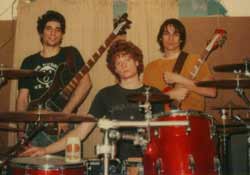 Artist: The Rich (pre-American Zen)
Author: Richard Del Connor (pre-The Hippy Coyote)
Project Format: live stage rock opera
Price: (free at many keg parties in San Diego)
Publisher-Editor: Richard Del Connor
Book Publisher: Shaolin Communications
Release Date: 1977
SFR004dm02
THE RICH in 1980:
Bill Stewart
- drums: 28" Ludwig kick drum, Paiste cymbals, 8-ply birch drums
Richard Connor
- lead vocals, 1957 Rickenbacker 4000 bass with flatwounds through Plush Amp
Vinnie Vincent Lauria
- electric guitar, 1978 Marshall Mk.II 50 watt combo amplifier
Written when the boys returned from the Hollywood screening of Alien in 1979. Someone didn't realize the huge statue was made of styrofoam when they tried to put their cigarette out on it and... kaboom! Aliann is the initial recording. It was played as a joke sometimes, but not at any gigs I can remember.
Shaolin Records SONG DOWLOADS 88¢ each.

Samples

Song Title

Song Recording Quality

0.88 each

"Aliann" 1980

(low quality live rehearsal recording)