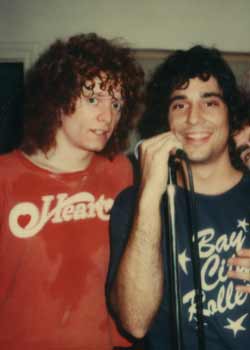 Artist: The Rich (pre-American Zen)
Author: Richard Del Connor (pre-The Hippy Coyote)
Project Format: live stage rock opera
Price: (free at many keg parties in San Diego)
Publisher-Editor: Richard Del Connor
Book Publisher: Shaolin Communications
Release Date: 1977
#SFR004dm01
This and "Carol" were recorded here at Crimson Sound. I was hired from San Diego to move up to Santa Monica and rebuild the BEACHBOYS STUDIO into their new Crimso Sound recording studio. Hank Cicalo and Tom Scott were the owners. WHERE ARE THOSE 2" Masters?
I never did get a record contract so I created Shaolin Records to release my records.
Don Carone came into the band because Dann Link was working as a production assistant for the Star Wars movie and couldn't attend rehearsals any more.
This is the INSTRUMENTAL VERSION of "The Reason Why." Songwriter Richard Connor would change the words of this song for each new girlfriend...
THE RICH 1979:
Richard Connor: bass, lead vocals
Dann Link: electric guitar, backing vocals
Bill Stewart: drums, backing vocals
Don Carone: electric guitar (pictured to upper left)
Shaolin Records SONG DOWLOADS 88¢ each.

Samples

Song Title

Song Recording Quality

0.88 each

"The Reason Why" 1979

(professional quality studio recording)