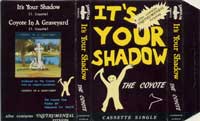 Artist: The Rich = rock opera = Coyote In A Graveyard
Author: Richard Del Connor (The Coyote)
Project Format: live rock band / studio recordings
Price: 88 cents per 320kb mp3 song download
Record Producer: Richard Del Connor
Record Label: Shaolin Records
Release Date: 1989
SFR002dm02a
The Rich: 1985 basic tracks, 1989 overdubs
Lori Aguilar - Elaine vocal
Bruce Candelaria- drums
Scott Hitchings - keyboards
The Coyote - lead vocal, electric & acoustic guitars, Rickenbacker 4000 bass
Shaolin Records SONG DOWLOADS 88¢ each.

Samples

Song Title

Song Recording Quality

0.88 each

"It's Your Shadow" 1989
(hit single)

(professional quality studio recording)
320kb mp3

"It's Your Shadow" 1989
(instrumental version)

(professional quality studio recording)
320kb mp3
From the rock opera, Coyote In A Graveyard,

"It's Your Shadow" was the memorable hit that all audiences expected with Coyote's full-throttle scream.
The VOCAL VERSION of "Coyote In A Graveyard," and the INSTRUMENTAL VERSION of "It's Your Shadow," received the most airplay due to to requests from listeners.
This song is about paranoia, agoraphobia, and having a bad trip. Panic and fear...
"It's Your Shadow" was one of the first songs of the COYOTE IN A GRAVEYARD rock opera based upon the agoraphobia of Coyote's lover in 1984. In the screenplay this song details the panic which combined with Elaine's conflicts with her parents motivated her to run away, become homeless, and then be captured by the hospital where she falls in love with the hallucinating patient, Thumper.