Artist:
American Zen

Author: The Hippy Coyote
Project Format:

cassette: TWO songs each side = cassette single = "cassingle"


Price:

$8.88 album, 0.88 song, 12.88 screenplay


Publisher-Editor-Producer: Richard Del Connor
Book Publisher: Shaolin Communications
Release Date:
8/4/1984
TWO SONGS EACH SIDE ARE DIFFERENT:
SIDE A:
"It's Your Shadow" with vocals
"Coyote In A Graveyard" with vocals
SIDE B:
"It's Your Shadow" INSTRUMENTAL VERSION
"Coyote In A Graveyard" INSTRUMENTAL VERSION
The COYOTE IN A GRAVEYARD soundtrack was recorded at Cherokee Studios in Hollywood, California. Overdubs were completed at Soundlabs Recording Studio.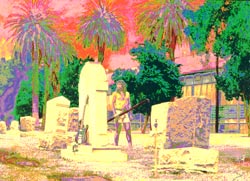 The screenplay, songs, and lyrics were all written by Richard Del Connor / The Hippy Coyote. Steven Spielberg and Kaghleen Kennedy offered his pirate ship used in the movie, HOOK, for the pirate scenes during the song, "Elaine."
The cassingle, "IT'S YOUR SHADOW," was released by Shaolin Records in 1989 to college radio. The A-Side contains the two songs from the rock opera soundtrack, "It's Your Shadow," and "Coyote In A Graveyard." The B-Side contains the same two songs remixed as instrumentals. This was the first and probably only single release of this type in music history. The two songs that charted the highest in college radio were the instrumental version of "It's Your Shadow," and the rock opera version of "Coyote In A Graveyard," with lead vocals.