Artist: Richard Del Connor
Author: Richard Del Connor
Project Format: pdf BOOK download
Price: $8.88
Publisher-Editor: Richard Del Connor
Book Publisher: Shaolin Communications
Release Date: 11/11/2011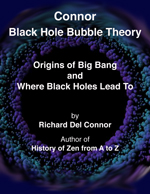 Origins of Big Bang and Where Black Holes Lead To.
Richard Del Connor began revealing his "Connor Black Hole Bubble Theory," in 2010 to Professor Hawking and some of his rivals.
1. Our universe is just a bubble inside a larger universe.
2. Outside our universe, is a tar pit of very dense "black matter."
3. Black holes are the black tar outside of our bubble.
Those are the most important points to grasp first. If you can visualize the above, you are one of the few people in the world, or at least of THE FIRST people in the world to realize this.
"Welcome aboard."