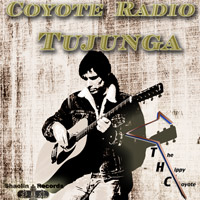 Artist: THC The Hippy Coyote
Author: Richard Del Connor, The Hippy Coyote
Genres: Classic Rock, Acoustic Music, Spanish Classical, Surf Music
Project Format: live in-studio recordings
Price: 88 cents per song/version
Product Formats: 320kb mp3 download (PayPal)
Music Publisher: Shaolin Music
Record Company: Shaolin Records
Release Dates: Recorded 1974, Released 2012
SFR206dm01
Coyote was playing a lot of surf music during these years in Tujunga. Then, one day, while walking the hillside with his son, Rory O'Connor, he discovered a surf rock band rehearsing. Coyote hung out with them and built their first website for them.
Longboard Ranch, also from from Tujunga, California, were an inspiration for Coyote during the recording of American Zen's album, LEVEL 3 = I Want You To Love Me.
Similar to: Deltones, Dick Dale, The Impacts, Ventures
Shaolin Records SONG DOWLOADS 88¢ each.

Samples

Song Title

Song Recording Quality

0.88 each

"Tujunga Beach" 2007

(professional quality basic track)