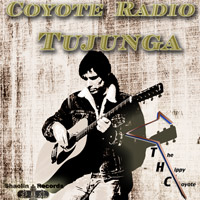 Artist: American Zen
Author: Richard Del Connor (pre-The Hippy Coyote)
Music Genres: Ballad, Blues, Classic Rock, Folk, Folk Rock, Musical Movie/Opera,
Pop, Rock Opera, Soundtrack
Project Format: live in-studio recordings
Price: 88 cents per song/version
Product Formats: 320kb mp3 download (PayPal)
Music Publisher: Shaolin Music
Record Company: Shaolin Records
Release Dates: Recorded 1974, Released 2012
SFR206dm04
This song was recorded because a New York stage play wanted to include this song in their production. So Coyote recorded this version of the song to make it easier for them to use. The play storyline was about a soldier durign WWII.
Coyote's song, "Dear Mom," is from the UNDERGROUND / SID'S PLACE rock opera movie. Tom Calder is living underground (the political and social underground of 1970) and cannot ever visit his family again. Inspired by Coyote's own loneliness and isolation from being exiled from the USA in 1970, this heartfelt ballad preceded his departure from his hometown again in 1978.
Coyote's personal attachment to this song was originally a song of appreciation for his mother in the 1970s, but in 2003, his mother had disowned him, declared he "wasn't her son," and taken him out of her Will. Perhaps all these factors combined to create such a moving an emotional performance from Coyote. It's extreme sadness is offset by its melodic beauty and artistic acoustic guitar performance by Coyote.
This is the only song on the COYOTE RADIO TUJUNGA album that has an overdub (additional musical performance track).
When Coyote originally wrote this song about 1975, he was notating his music, writing out the melodies, and submitting his copyrights to the Library of Congress on paper. Since 1980, Coyote has been recording his original songs when written and submitting these cassette recordings for copyrights.
Recorded in 2003 in the Tujunga home recording studio of Shaolin Records.
Shaolin Records SONG DOWLOADS 88¢ each.

Samples

Song Title

Song Recording Quality

0.88 each

"Dear Mom" 2003

(professional quality studio recording)
320kb mg3