Artist: American Zen
Author: The The Hippy Coyote
Project Format: mp3 song downloads individually, or as album
Price: $8.88 album podcast collection, 0.88 per podcast (Yep, these were originally free at iTunes.)
Record Producer: Richard O'Connor (aka Richard Del Connor)
Record Label: Shaolin Records
Release Date: 2/4/2006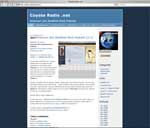 These 20 podcasts were the first podcasts starring our hippie hero, The Hippy Coyote.
Check out the links at CoyotePodcast.com for FREE DOWNLOADS.
However, these podcasts were released as 192kb mp4 AAC files with slides shows, and all over 15 minutes in length -- so they can take a lot of time to download.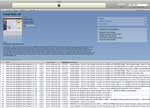 So, we have released this DVD collection of the LEVEL 1 podcasts of the AMERICAN ZEN BUDDDHIST ROCK PODCAST.
Coyote, as narrator and spoken word poet, leads these weekly journeys through the website stories "webstories" and poetry of the American Zen website at www.americanZEN.org
Also included in this series are the narrated webpages of the CD website, LEVEL 1 = PEACE OF MIND.
Download the entire LEVEL 1 podcast series for $8.88
Podcast radio shows recorded in Tujunga 2006.
No longer available at iTUNES
or at the Zen Buddhist Podcast Web Blog.
Available soon...
Visit www.CoyoteRadio.NET
where these podcasts were originally hosted from
for current podcasts
or rereleases...